Vibha systems air curtains are specifically designed to create a powerful vertical stream of air that acts as a uniform, noiseless and invisible barrier along the doorway thus effectively preventing escape of cool conditioned air to the outside. This high velocity cushion of air also helps in preventing dust, insects, smoke, odour, etc from entering inside.
Vibha Systems manufacturers and suppliers of all type of air curtains for commercial and industrial applications. We cater to major industries like pharmaceuticals, clean rooms, electrical and electronic industries, automobile industries, pickle processing, gherkins, drinking water plants and food processing industries.
Door Air Curtains
Industrial Air Curtains
High Velocity Air Curtains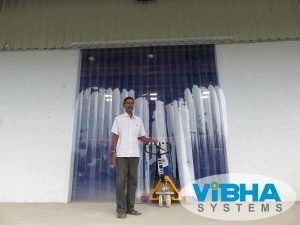 SS Body Air Curtains
ABS Body Air Curtains

Sleek Air Curtains
Flame Proof Air Curtains
Cooling Control Air Curtains
AC Control Air Curtains
Manufactures | Suppliers | Dealers of Air curtains Chennai and Bangalore
Specifications of Industrial Air Curtains.
Width: 380mm
Height: 380mm
Length: 3ft / 4ft / 5ft / Custom build available.
Weight: 37 – 85 Kg ( from 3ft – 6ft )
Power Consumption: AC 440 Volts – 3 Phase
Horse Power: 1 HP and 1.5 HP
Motor model: GE Motor
Blowers: Aluminium / Stainless Steel / ABS Plastic
Outer Cabinet: CRCA Epoxy powder coated / 304 stainless steel
Grill Mild steel / PVC Coated / Epoxy Coated
Velocity: 22 m/s ± 2 m/s
Noise Level: 73 db – 1 meter away from air outlet.
Application areas of Air Curtains for
Loading and unloading bays, Warehouse forklift movement areas, Factory doors, Soft wall clean rooms, Cold storage doors, Clean room doors, Wash bay areas, Paint booth areas, Roller shutter doors, Industrial , Entrance and ware house entrances., Canteen back doors, hotel, resorts and casino back entries., Meat processing industries, pulp manufacturing industries, Pickle manufacturing industries, ghee manufacturing industries, Spice processing plants, Insect and wind control, Food storage entrances, cold storage.
Air Curtain Features :
Sleek Compact Sturdy Design
High Efficiency at Low Sound Levels
Totally Maintenance Free
Available in Sizes of 3 FT. 1 MTR. 4 FT. 5 FT 6 FT.Models Available For Door Heights from 7 FT. To 24 FT.
Benefits of Vibha Air Curtain :
Saves Energy / Saves Costs
Cuts Air Conditioning Costs Substantially
Reduces Air Conditioning Losses, Entry of Insects, Heat, Dust, Fumes and Odour.
Allows Free Flow of Men and Materials In and Out
Provides High Efficiency at Low Power Consumption
Increases Employee Comfort and Productivity.
We are manufacturer of Air Curtain. Our air curtains are extensively demanded in various homes, villas, restaurants, hotels, offices for the prevention of hot and cold air in the room. These air curtains are designed for use in the food processing industries for ventilation. Customers can avail these air curtains at market leading prices from us within a confine time.
You can order a variety of sizes of our Air curtain for use in several different areas or in multiple facilities. Need a custom door size you can't seem to find? Call 0091 – 9500161736 or request a quote and we will connect you with a sales consultant to discuss your application and individual project requirements.