Transparent PVC Strip Curtains
Clear Transparent PVC strip Curtains are often the perfect combination of efficiency and value for food production, cold storage, food distribution and industrial facilities.
• Practical and economical option
• Energy savings and temperature control
• Employee comfort and protection
• Safety and visibility
• Noise, dust and pollution control
• Prevention of birds, insects, and rodents
• Toughness, durability and resilience
• Easy traffic flow
• Easy installation and maintenance
Transparent PVC Strip Curtains
PVC Strip Curtains are most preferable product for loading and unloading docks. our clear transparent pvc strip curtains have good transparency compare to other suppliers in chennai, india. using our transparent pvc strip curtains, clear pvc strip curtains will get huge benefits which include unlimited access by forklifts and pedestrians, energy conservation, increased efficiency on the shop floor, rounded edges to avoid injury to pedestrians, effective reduction in heat, cold , humidity-loss, noise and dust transmission, prevents birds, flies, dust, heat from entering the working area. transparent pvc strip curtains are easy to maintain using plain water.
Standard PVC Strip Curtain Sizes :
2mmX200mm, 2mmX300mm, 3mmX200mm; 3mmX300mm, 4mmX200mm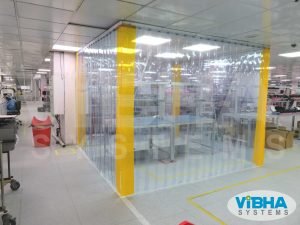 PVC Air Curtains
Clear Door Strips
PVC Plastic Curtain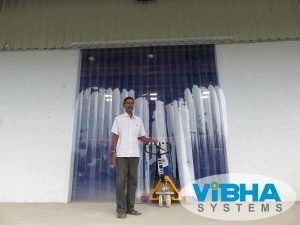 Industrial PVC Strip Doors
Plastic Curtain For AC Room
PVC Plastic Door Blinds
PVC Flap Curtains
Clear Vinyl Strips
PVC Door Strips
TRANSPARENT PVC STRIP CURTAINS
Application Areas:
Loading and Unloading Bays
Warehouse Forklift Movement Areas
Factory Doors
Machine Enclosures
Storage Racks
Soft wall Clean Rooms
Cold Storage Doors
Clean Room Doors
Grinding Areas
Wash Bay Areas
Paint Booth Areas
Bird Control Screens
Roller Shutter Doors
You can order a variety of sizes of our PVC strip curtain for use in several different areas or in multiple facilities. Need a custom industrial strip curtain size you can't seem to find? Call 0091 – 9500161736 or request a quote and we will connect you with a sales consultant to discuss your application and individual project requirements.